For much of the early years of Loretta Lynn's, Kawasaki's Team Green was the dominant force in amateur motocross. The program started in 1982, the same year as Loretta Lynn's. At the time, shop teams were the biggest thing in the amateur ranks, with renowned forces like Michigan's Team Dynamic often seen at the front of the pack. Yamaha soon began building a strong amateur support program to rival Kawasaki's, and it produced riders like Bob Moore, Kevin Foley, Keith Bowen, Jeff Stanton, Damon Bradshaw, and more.
Honda dipped their toe in the amateur support ranks from time to time, selecting A-plus talent to carry the flag, like the Melton brothers from Indiana, California's Willie Surratt, Arizona's Shaun Kalos and Jimmy Button, Florida's Tim Ferry, and more. But after betting big on taking Mike Alessi from 85s to professional, only to lose him to KTM when he turned pro, Honda backed off a bit and more or less went the shop route again, with Honda of Houston fielding most of their amateur presence.
That all changed in 2007 when New Hampshire-based Factory Connection put together a program that would see them sign top amateurs about to graduate to the pro ranks, and then guide them straight on to their GEICO Honda team. Honda had seen some success with this when Josh Grant turned pro in 2004 and immediately led the Hangtown 125 National ahead of James Stewart. They decided to solidify the program with Factory Connection's Rick "Ziggy" Zielfelder, and the first rider they signed was a Team Green kid from Elk City, Oklahoma, named Trey Canard. The previous year at Loretta Lynn's Canard had swept both of his B classes, and now he was primed to do it again, only this time in the A and Pro Sport classes, and on a Honda.
It was the 250 A Class (then called MX Lites A) where Canard would take on longtime rivals and friends Nico Izzi, Austin Stroupe, and Wil Hahn. All week long they battled, with Stroupe taking the first moto on his Kawasaki KX250F and Canard the second on his CRF250R. Before the start of the last moto the four friends apparently decided that they would celebrate the end of their amateur careers by each doing a trick off the big infield tabletop on the first lap of the race, and they all kept their word and pulled a parade of no-footers and one-handers before focusing on the task at hand. Canard would end up the winner, with Stroupe second, future GECIO Honda rider and fellow 250SX Champion Wil Hahn third, and Suzuki's Izzi fourth. Canard would also win the MX Lites A/Pro Sport class, helped along by a third moto DNF by Team Green's Stroupe.
Other future Factory Connection Honda riders would be showing their potential in their respective classes. Eli Tomac, then riding for Suzuki, would win the 85cc (14-15) and Super Mini Class. Coincidentally, the rider he beat out for the title in the latter division was none other than Blake Baggett, the rider he's been swapping the red plate with as they battle for the 2017 Lucas Oil 450 Pro Motocross Championship. A third rider in this year's 450 mix, Jason Anderson, won the 85cc Stock and Modified (12-13) class over future GEICO Honda rider Zach Bell. Justin Bogle, riding a Kawasaki KX80, finished fourth and fifth in 85cc 12-13 classes. He would go on to win the 250SX East Region for GEICO in 2014.
GEICO Honda's future 250SX East Region Champion Malcolm Stewart was a top-10 finisher in both of his 250 B classes. Matt Bisceglia ran third in the 85cc (7-11) Stock classes behind future rivals Adam Cianciarulo and Cooper Webb. Justin Barcia was already a Honda rider, but he would miss Loretta Lynn's that year with an injury. Jordon Smith finished ninth in the 65cc (7-11) Mod class.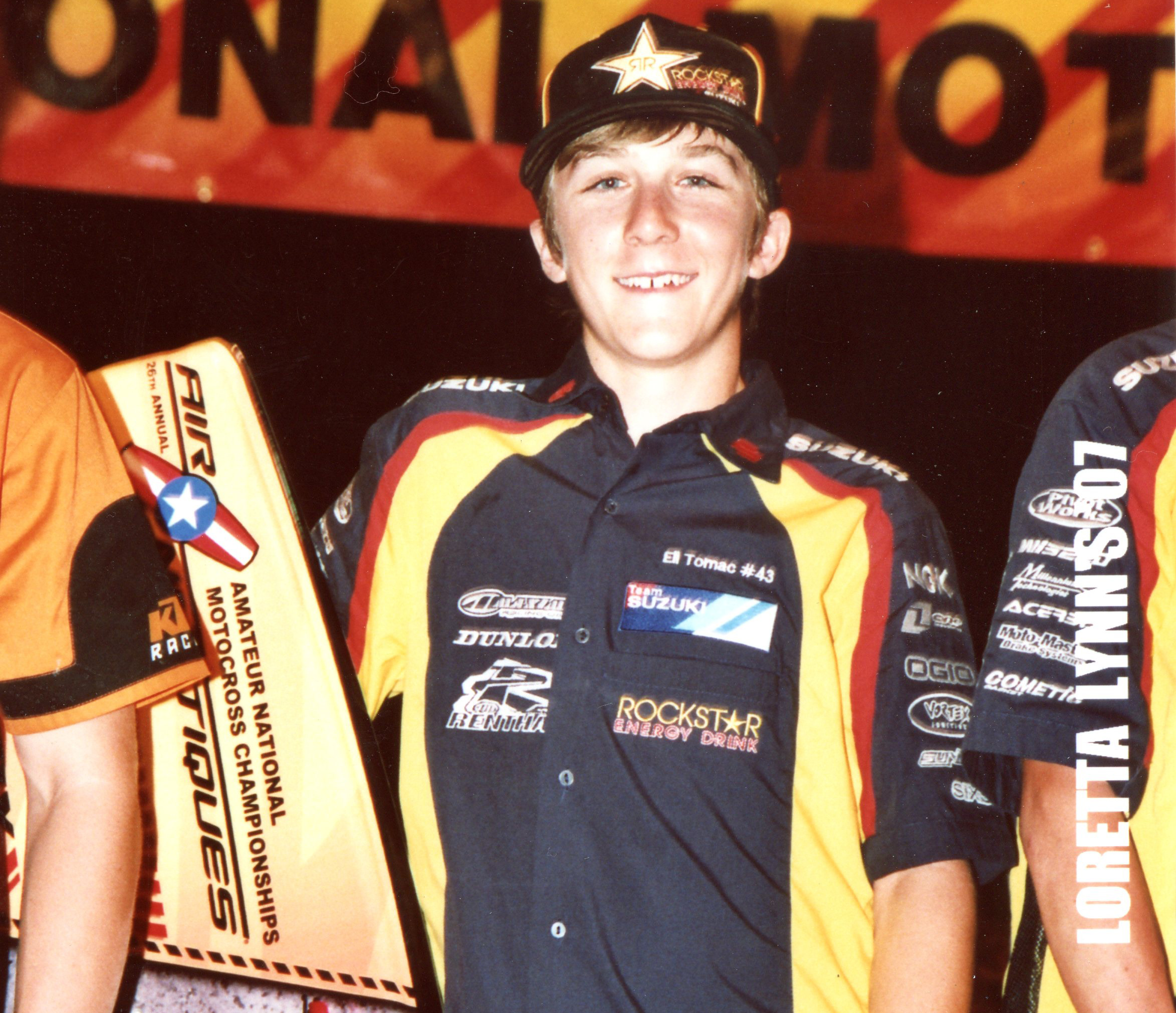 Also, Blake Wharton would win the Schoolboy (12-15). One year later he would sign with GEICO Honda, basically taking the spot left over by Canard, who turned pro right after Loretta Lynn's. At his first professional race, the Spring Creek 250 National, Canard went 39-4 for a convincing 11th place overall. He would then finish in the top 10 in each of the last three Nationals that followed. When the 2008 AMA Supercross East Region started out, he would pay off the team in spades by winning the first three rounds he entered, and then beating out the heavily favored Ryan Villopoto of the Monster Energy/Pro Circuit Kawasaki team for the championship.
GEICO Honda was up and running, and the balance of power in amateur motocross was suddenly in flux as well. The team is still in the thick of it, both in the professional ranks as well as the amateurs, and it all began in 2007.