If there ever was a rider made for Loretta Lynn's, it was Mike Alessi. Hyped from the time he was on pee-wees, Mike and his little brother Jeff were minicycle prodigies who grew up through the ranks at the ranch, racing there for a full decade as they went from 51cc to 450cc. Mike won what was then a record 11 titles between 1994 and 2004, including his last seven championships in a row. (Riders are limited to two classes per year in the finals at the Loretta's.) His class titles showed his gradual growth, as well as a sampling of what the industry was doing in regards to motorcycle offerings: 51cc Stock ('95), 65cc Stock ('99), 65cc Stock and 85cc Stock ('00), '85cc Mod ('01), 85cc Stock and Mod ('02), 85cc Mod and 105cc Super-Mini ('03), 250/Open A and Four-Stroke ('04). Incredibly, little brother Jeff never won at the ranch, either due to bad luck, being injured, or just not having three good motos in the same class, in the same week.
By 2004 it was clear that Alessi was going to be turning pro soon, and the family PR was cranked up to 11. "Believe the Hype" was almost upon us, as Alessi would be turning pro right after Loretta Lynn's and entering his first professional race the following week at Millville, just as so many others would do as a right of passage back before turning pro in spring in order to race the relatively easier more comfortable and familiar outdoor nationals became a thing. Honda was ready—they had been the Alessis' sponsors the last three years of their amateur career and seemed to have a seat waiting for him the moment he turned pro. That led to a very awkward ending when the Alessis turned around and instead signed with KTM for the 2005 season, but that's another story.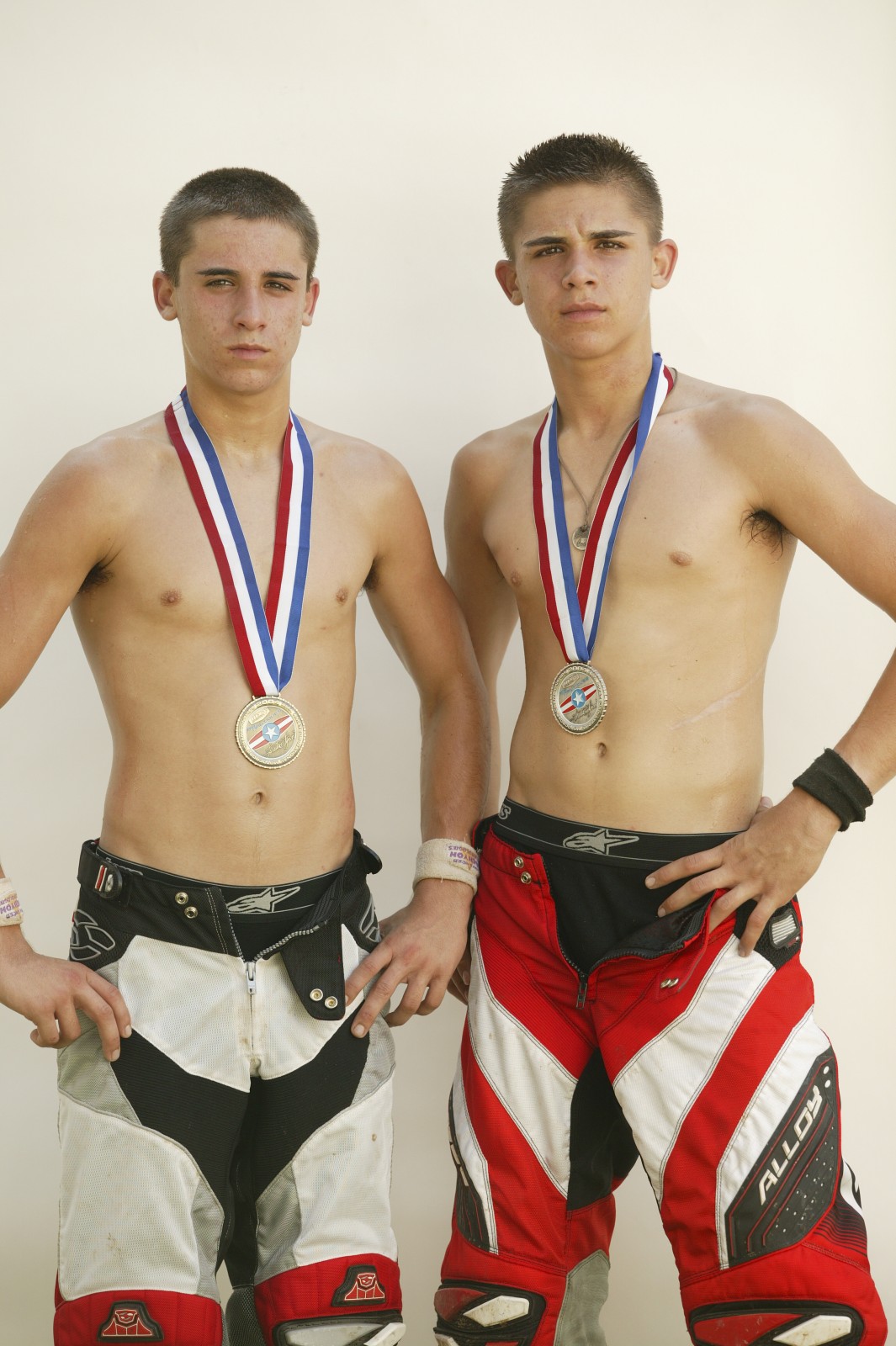 At the ranch for the last week of their amateur careers, the Alessis were the focus of not only their competitors but future ones as well. Planning to make his pro debut at Millville the following week, Alessi first planned to race the 125 class on a Honda 250F, but then his dad, Tony, said in an interview that they were coming to beat James Stewart. Stewart, at that point dominating the 125 Nationals, didn't take kindly to that. Then the Alessi's announced they were switching to a 450 to race the 250 class at Millville, but wisely said the goal was to holeshot, lead a lap, and finish on the podium. At least this avoided the ire of 450 dominator Ricky Carmichael.
As luck would have it, one of Alessi's motos was scheduled to take place right after intermission. And during that intermission, Stewart was scheduled for a Kawasaki demo ride. .Stewart drew a huge crowd, because he hopped on a new 2005 KX250, the bike the world couldn't wait to see him graduate to and race (against Carmichael) the following season. Stewart lined up some huge jumps that no other racer at Loretta's was doing. Then, he turned around and rode back over to the starting gate. Alessi was there, sitting on his bike, waiting for his moto.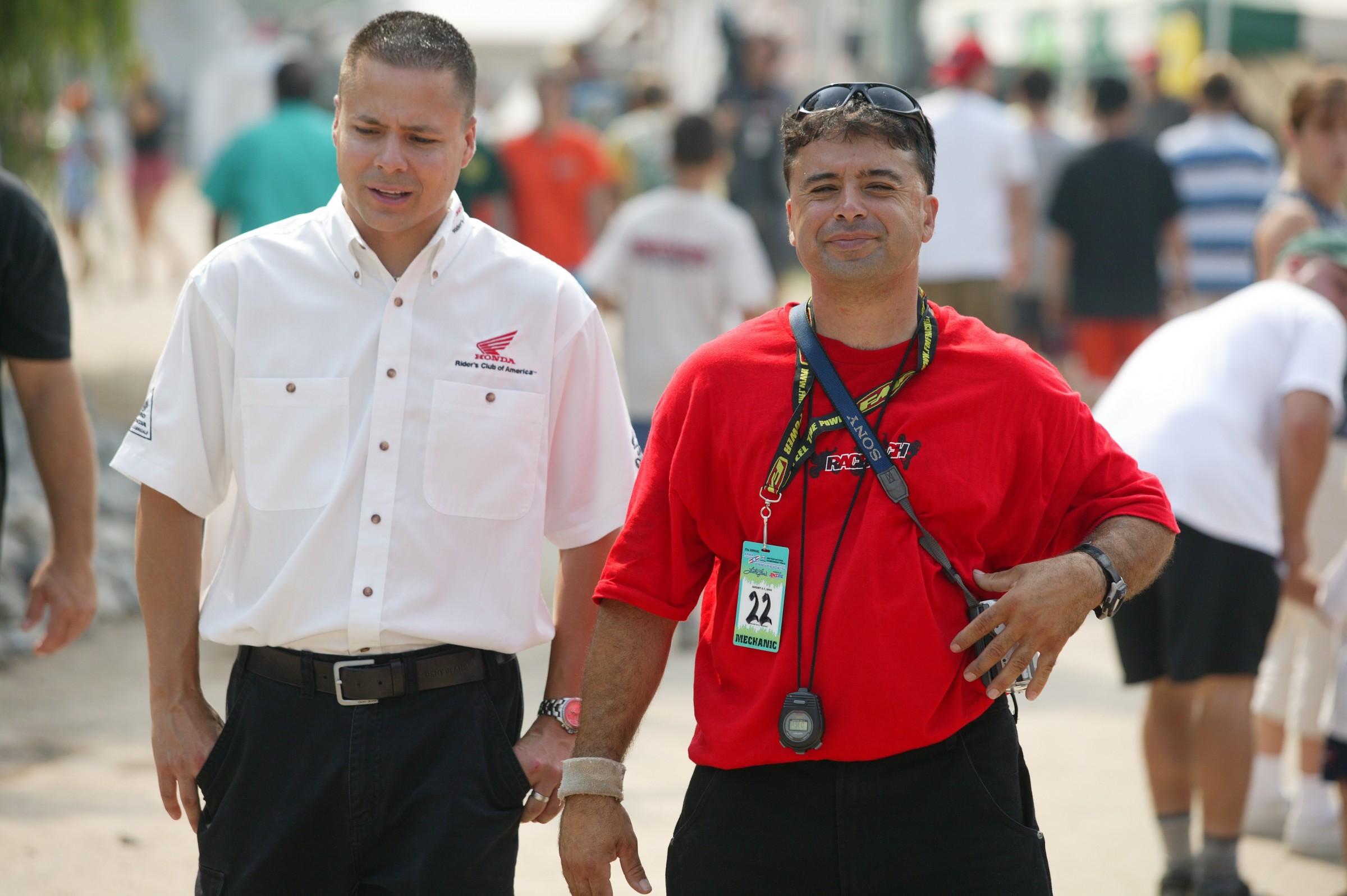 Stewart waved and pointed at him, as if to say, "Come on out and play" in a mocking moment. Then he jumped some more huge quads. To his credit Mike didn't let it phase him, instead focusing on the task at hand—sweeping all six of his motos that week, which he did with relative ease, establishing the all-time AMA Amateur National Championship wins mark at the time. One of the strangest moments? During the moto, while leading, Alessi looked over at a crowd of Fox employees standing on the infield, thinking Stewart was with them, and gestured over the jump, as if to say "See how fast I am?"
But Stewart wasn't in that crowd of Fox folks. He was already back at the Kawasaki rig changing out of his gear. Carmichael was in the group, and immediately said "Wait, is he pointing at me?" The Alessis had tried not to poke at RC, but now Mike had just done it, accidentally.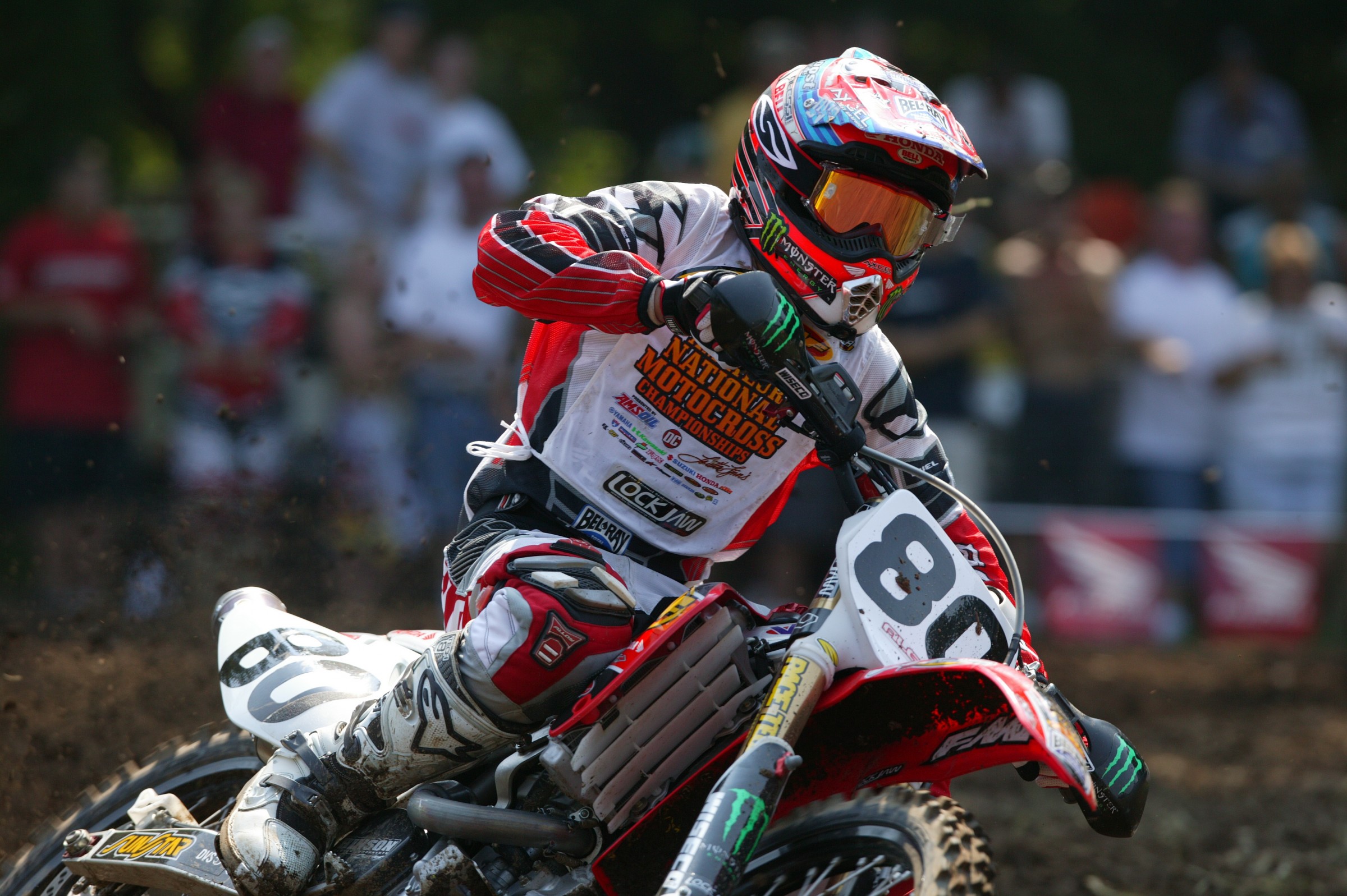 One week later at Spring Creek, when Alessi made his professional debut, the hype seemed to overwhelm him. He struggled to finish 27-25 in his two 250 Class motos, aboard his Honda CRF450. Carmichael won both motos by a mile, lapping #800. And Stewart laid waste to the 125cc Class aboard a Kawasaki KX125. Alessi left with his tail between his legs, but the kid was an extremely fast learner. After taking the next national at Broome-Tioga off to regroup, Alessi came out swinging at Steel City and logged 5-4 motos for third overall, sharing the podium with Carmichael and Kevin Windham. One year later, he would win the second round of the 2005 AMA 125cc National Motocross Championship at High Point Raceway in Mt. Morris, Pennsylvania.
A dozen years later Alessi is still racing professionally, and he remains one of the all-time winningest riders in amateur motocross history—probably the winningest rider when you add on all of the titles he won at the old World Mini GPs, Ponca City's NMA Grand Nationals, the Mini Olympics at Gatorback in Florida, Mammoth Mountain and more. However, he's also a cautionary tale of sorts for both riders and their parents in regards to turning up the hype a little too much, too soon. Because while he's the rider most remembered from 2004, some of the other kids there would go on to have pretty decent careers too. Mike somehow never won an AMA Supercross main event, nor did he win any titles as a professional.
For instance, Matt Lemoine won the 105cc Super-Mini class, but among the riders that he beat were Zach Osborne (third), Cole Seely (eighth), and a kid named Ryan Dungey (ninth). Osborne won the 85cc (14-15) Mod class over a field that included both Ryan Dungey and Ryan Villopoto. Tommy Hahn swept all three motos in the 125 A Class while Ryan Sipes won the 125 A Pro Sport class over Matt Goerke. Josh Hill beat out Broc Tickle in the 125cc Modified (12-15) and Jason Lawrence won the 125 B Mod and 250/Open B classes. Jason Anderson was runner-up in the 65cc (7-11) Mod class. Cooper Webb, Justin Hill, Adam Cianciarulo, Jessy Neslon, and Colt Nichols were all on the gate in the 65cc (7-9) Stock class. And Eli Tomac topped the 65cc (10-11) class over a field that included Justin Barcia (third) and Blake Baggett (fourth). The Girls 65cc-105cc champion was Ashley Fiolek.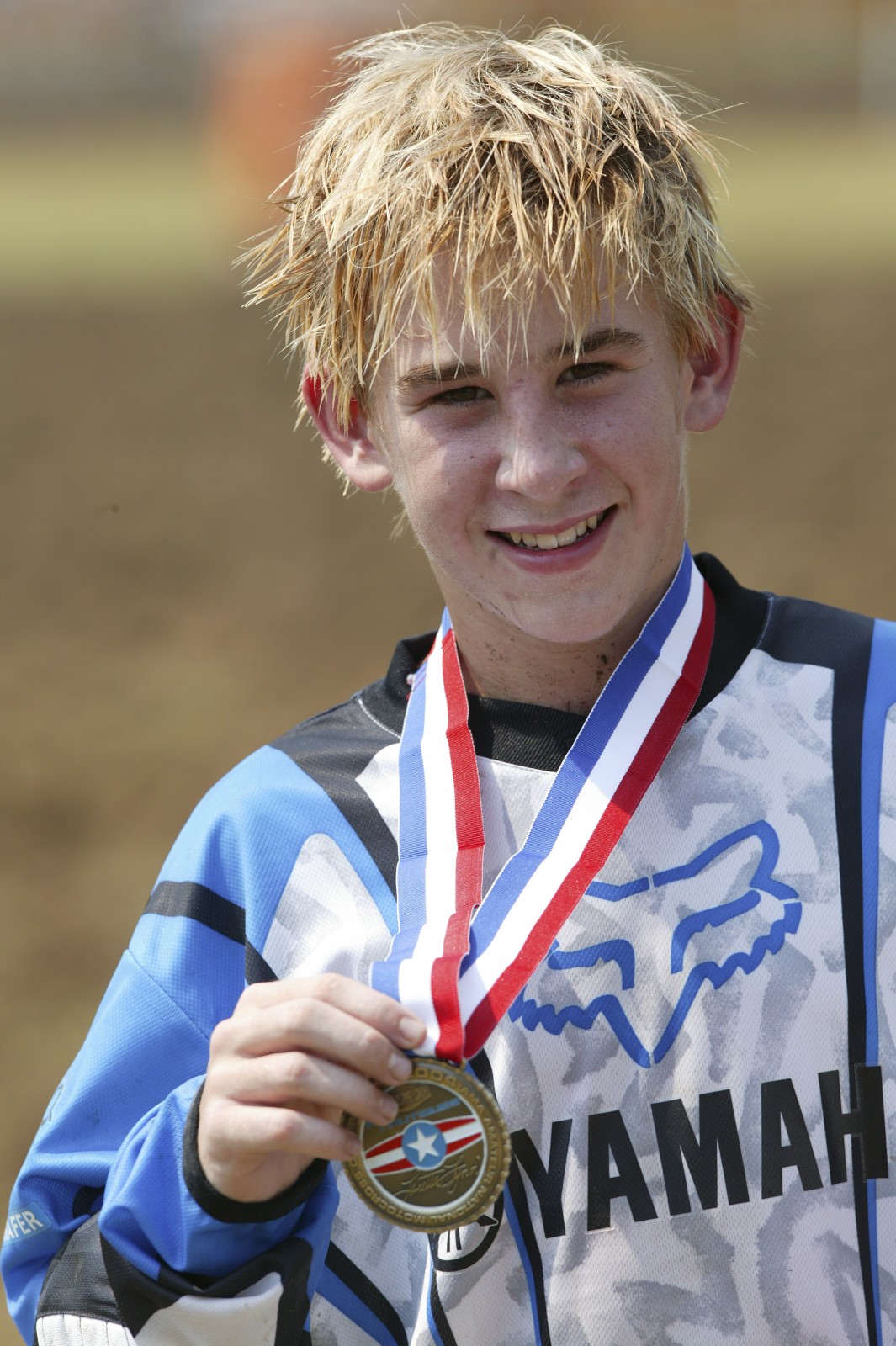 Winning at Loretta Lynn's is no guarantee that a bunch of pro titles in Monster Energy Supercross, Lucas Oil Pro Motocross, or the FIM Motocross World Championship will follow. But you can bet that somewhere on the starting gate lined up alongside you are some other very fast kids you may have never heard of—at least not yet!