The beginnings of the AMA Amateur National Championship at Loretta Lynn's tie right into the beginnings of the modern-day amateur support program. Just as the Loretta's program kicked off in 1982, Kawasaki was setting up its Team Green program for amateurs. It would become the model to follow, to the point where now most brands even have a similar-sounding name for the program, like KTM's Orange Brigade and Yamaha's Blu Cru.
Each brand has had its moments of glory on the amateur circuit, but Suzuki seemed to put on the largest push in the early 2000s, building a huge team with a ton of talent. Not only did Travis Pastrana win the 1999 AMA Horizon Award on a Suzuki, but Ben Riddle did the same in 2000, and Evan Laughridge did in 2002. In 2003, Suzuki had a pair of big-bike talents set to graduate with big-money pro deals locked in: Davi Millsaps and Broc Hepler. They became the riders that everyone else at the ranch tried to beat.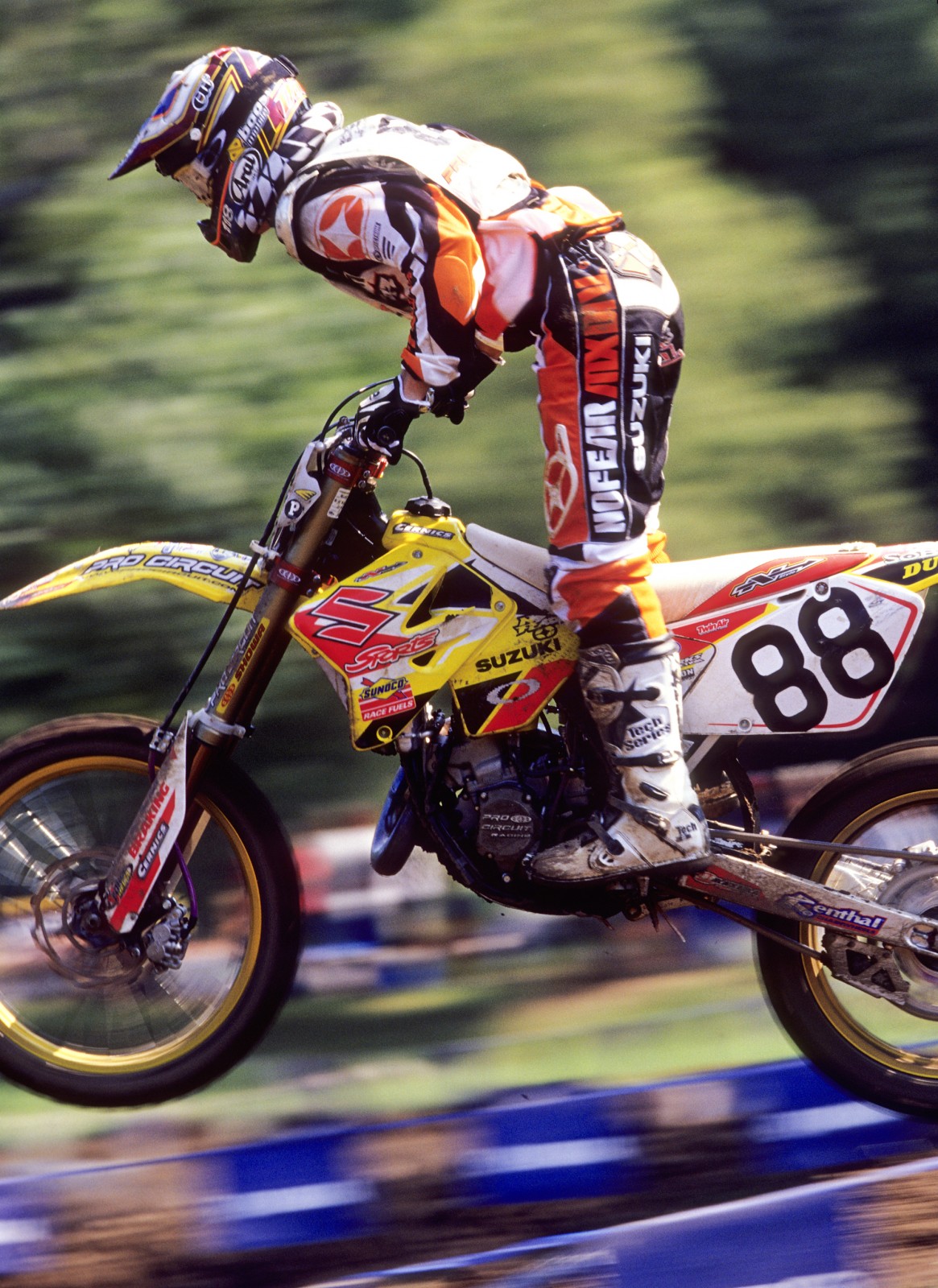 This led to good racing. Millsaps came through in his classes, winning both the 125A and 125 Modified 12-15 titles. He had competition from the late Josh Lichtle, Millsaps' friend and a fellow Suzuki rider who managed to beat Davi straight-up in a moto. Matt Boni, Shawn Clark, and Ryan Sipes were also fast throughout the week, but Millsaps nailed both titles and with it the AMA Horizon Award. He would have to wait until 2004 to turn pro, though, because Millsaps was still 15 when he finished at Loretta's.
Hepler raced 125 A/Pro Sport and 250 A. In the 125s he won his first moto but crashed in his other two, leading to 1-8-28 scores. Kawasaki's Bryan Johnson, now one of the main men down at the Millsaps Training Facility, scored that title with a 3-1-3. Hey all you kids training at MTF this summer—Bryan knows what he's talking about!
Hepler grabbed the 250 A title with 2-1-1 scores to top Ryan Sipes and Johnson. He turned pro right after and went 11-12-11 in the overalls at his first pro Nationals. A year later, he would finish second to James Stewart in the 125 National Championship standings. Sadly, his racing career was cut short by a head injury.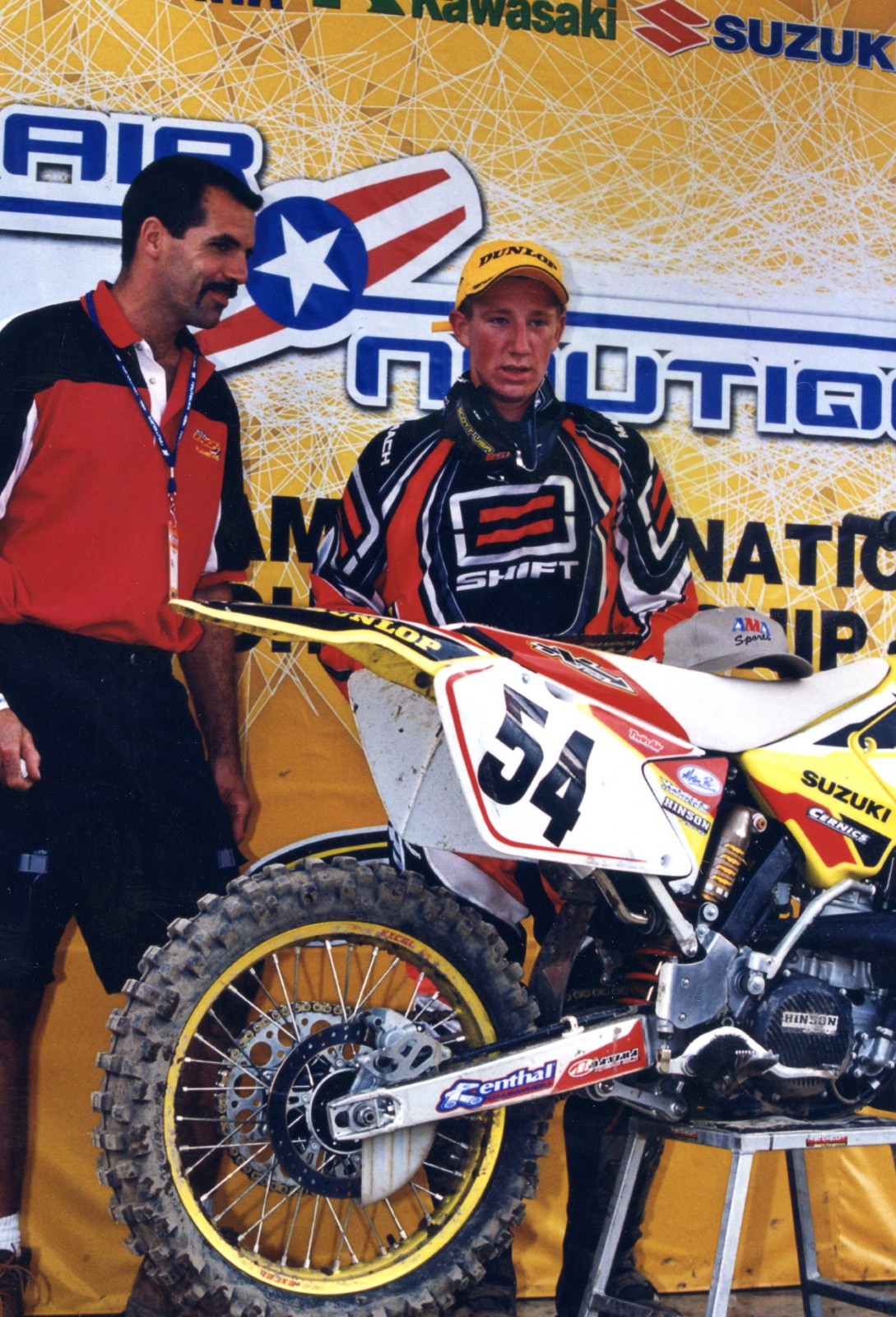 In 250 A/Pro Sport, Jeff Emig was back again after his successful return to the Ranch in 2002. He had to face Suzuki's Bryan Gray, who had been very fast in a few pro 125 Nationals earlier that summer. They battled, but Emig came out on top 1-1-2 to Gray's 2-2-1. Unlike the previous year, Emig also won his showdown with Vet king Kevin Walker in the Vet 30 Plus class. They were tied with a 1-2 and a 2-1 heading into the final moto, but Walker crashed out and Emig scored the victory.
The greatest drama, though, once again came from the minicycle ranks, and another Mike Alessi versus Ryan Villopoto duel. Villopoto was now with Team Green and ready to take on the Honda-mounted Alessi, but for the second-straight year, Alessi had it covered. They were a good match on speed, but Mike got starts and avoided any mistakes or crashes. As we've stated here time and time again, Mike was a machine at Loretta's, and his six-moto sweep of the 105cc Supermini (12-15) and 85 (14-15) Modified classes serves as proof. What did Villopoto get in the six motos that Alessi won? Six second place finishes.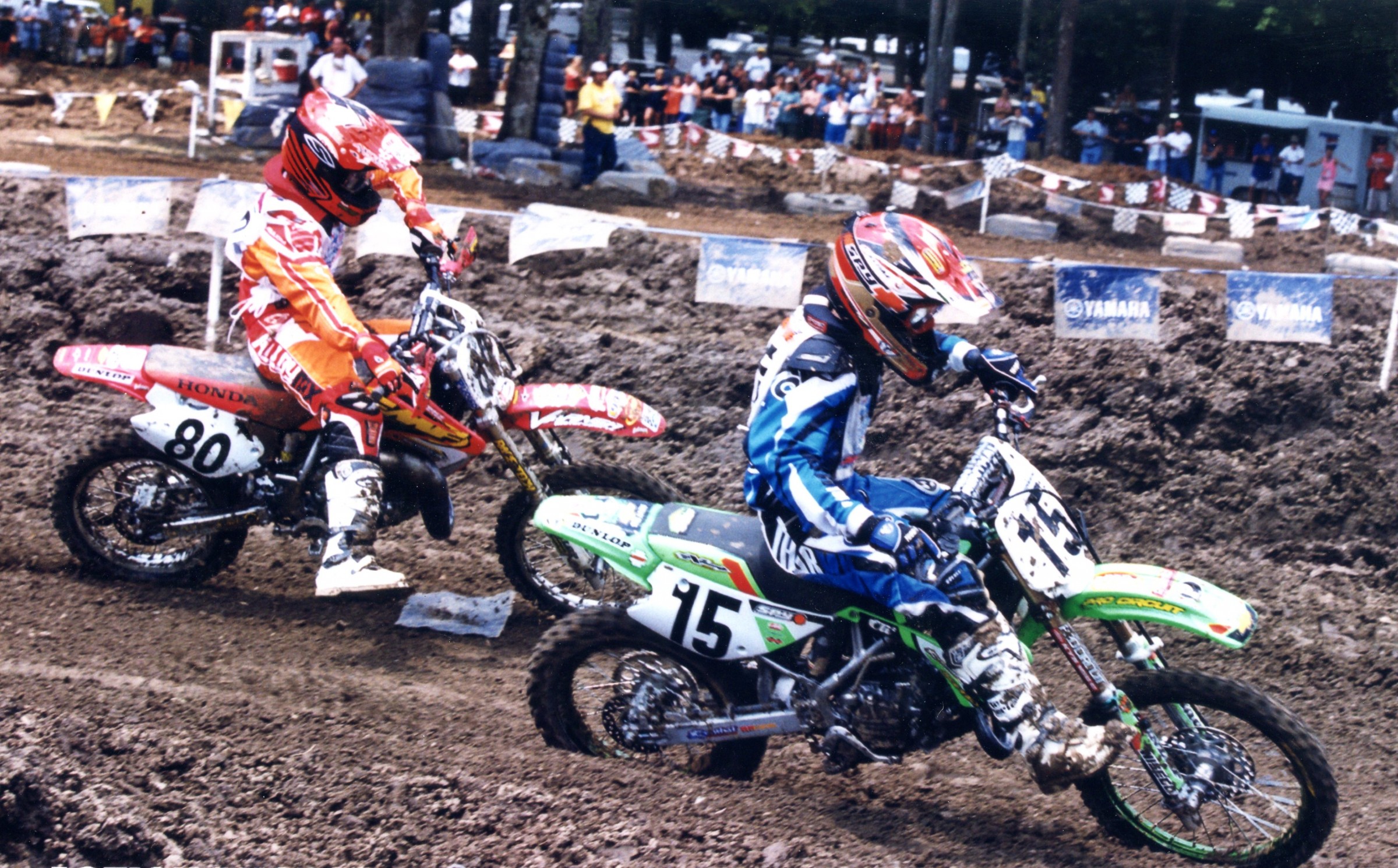 Also of note in the Supermini class was the third-place finisher, listed as Christopher Pourcel of Kissimmee, Florida. Don't let that fool you—that's Christophe Pourcel of France (the Crafty French Boy?). In his own trip to Loretta's, he acquitted himself well against experienced competitors, although he was not close to Alessi or Villopoto in the motos. Good runs for a first-timer, though.
Mike Alessi usually had his younger brother Jeff on the gate with him, but the class age breakdown for 2003 left them in different brackets of the minicycle age divisions. It appeared '03 would be Jeff's time to finally grab a title, but he DNFed the first 85 (12-13) Mod moto, and then went 3-1. The winner? Another Loretta's all-timer, Josh Hill, who went 1-1-2 to win a stacked class that also included Austin Stroupe, Zach Osborne, Nico Izzi, Broc Tickle, PJ Larsen, Darryn Durham, Trey Canard, Wil Hahn, and this kid from Minnesota named Ryan Dungey, who went 8-20-8 for ninth overall. Eventually, Suzuki came calling for him, too.