By 1997, 30 classes make up the AMA Amateur National Motocross Championship at Loretta Lynn's. Gone from the amateur ranks was the all-time winner (at the time) Ricky Carmichael, as the Kawasaki Team Green product had moved straight up to Mitch Payton's Pro Circuit Kawasaki team and was already dominating the 125 Nationals. That left the starring role at the ranch for the summer of '97 up for grabs, and Michigan's Nick Wey was the one who stepped up and grabbed it. Wey won the 250/Open A Stock on his Team Green Kawasaki as well as the 125 A class. NYK would earn the first-ever AMA Horizon Award as the outstanding rider graduating from the amateur ranks. That award has since been renamed the Nicky Hayden Horizon Award, in honor of the late MotoGP Champion and one-time winner of the award as a promising young flat track racer.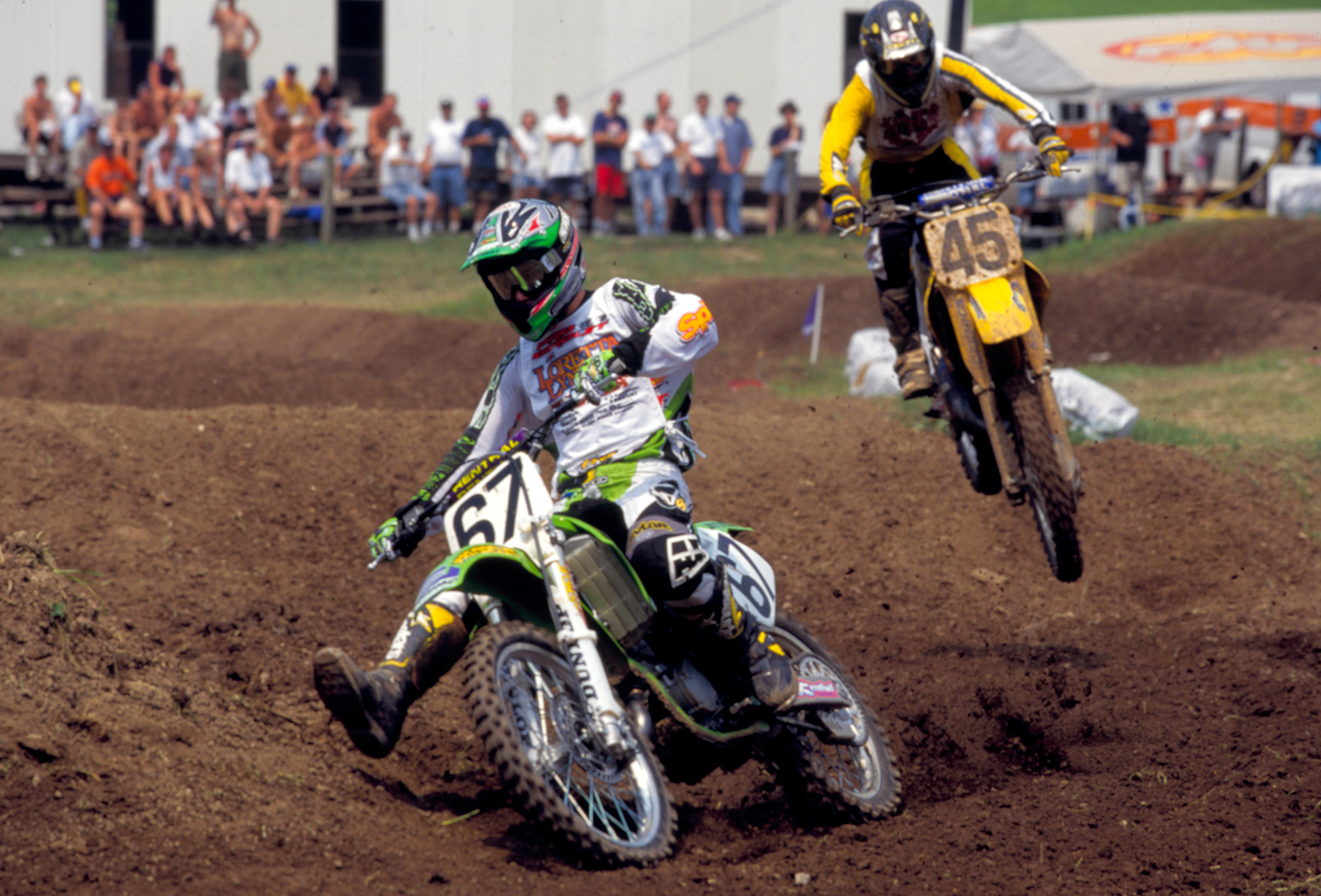 The big battles came in the 125cc Schoolboy Modified class, where a classic East-West showdown took place between California's Billy Payne and Maryland's Travis Pastrana. Payne came out on top in the class (he and Pastrana split the first two motos), but the third moto was won by the relatively unknown Ben Riddle of Kentucky. Among the other riders in the results in this class were future AMA Supercross winners Ivan Tedesco, Andrew Short, and Matt Walker.
Three of the top five in the 125 A Modified would go on to win AMA 125 Pro Motocross Nationals: winner Brock Sellards (Ohio), runner-up Danny Smith (Idaho), and fourth-place Kelly Smith (Michigan). Sixth place Mark Burkhart (Ohio) would become the AMA Supermoto champion and an X Games gold medalist. In fact, there were two X Games gold medalists in the top 10 in this class, as Ronnie Renner (Florida) finished eighth.
Smith, who was riding a Yamaha at the time, also finished runner-up in the 125 A Stock class to Wey. And Sellards topped the 250/Open A Mod class, taking two of three moto wins. The middle moto win went to Minnesota's James Povolny, who is coming into the 2017 Rocky Mountain ATV/MC AMA Amateur Motocross Championship as the defending class champ in Senior +40. (Povolny was considering trying to qualify for Spring Creek's 450 Pro National today, but then realized that he would become ineligible for Loretta Lynn's if he actually qualified!)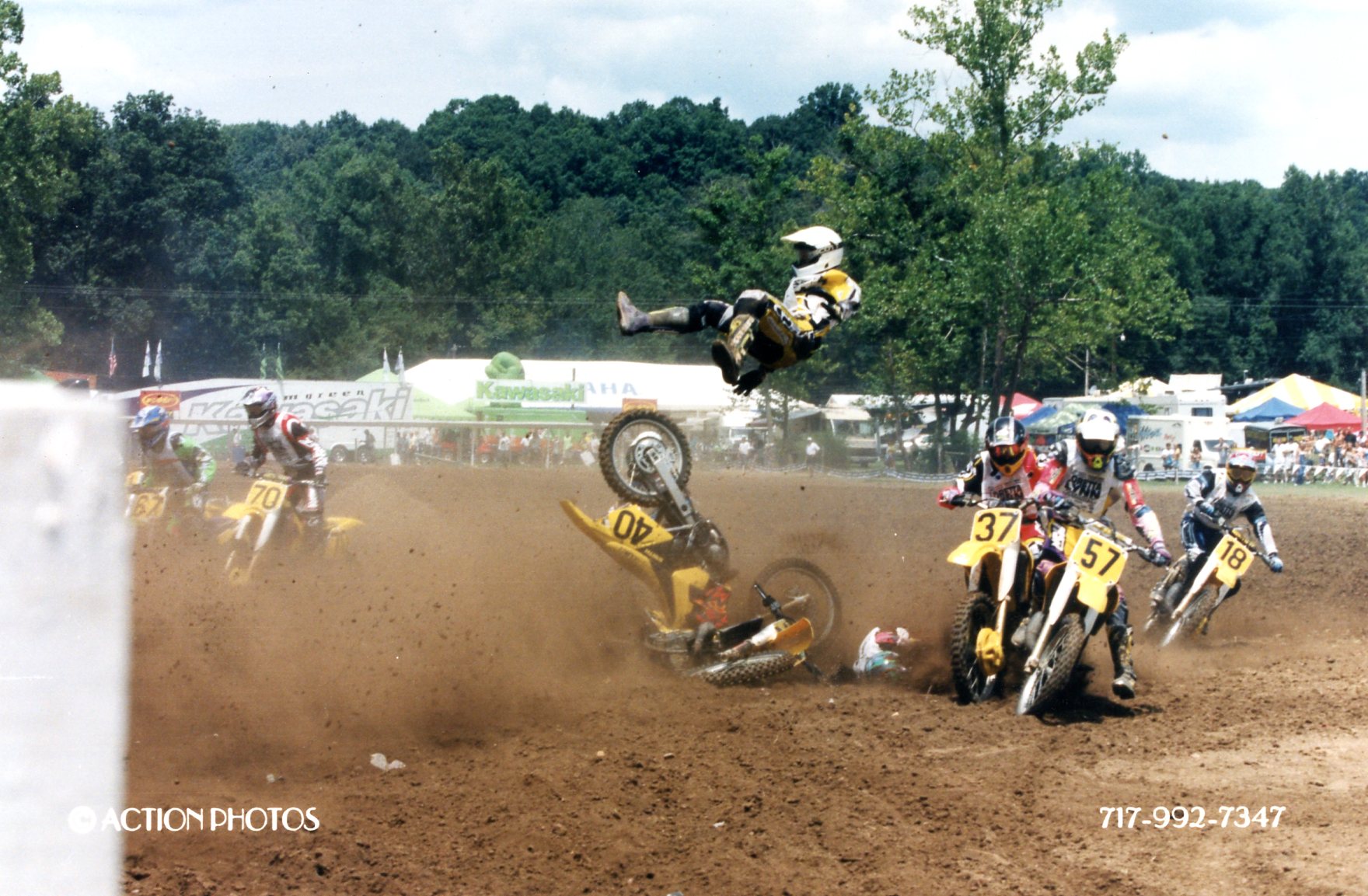 Ernesto Fonseca had Florida listed as his home address, but he was actually from Costa Rica. He won the 125 B Stock and Mod classes, getting his name on that AMA State Champions National Cup with Davi Millsaps and James Stewart. But in his races he battled with Randy Valade (Michigan), Brandon Jesseman (a future 125 Supercross Champion from Pennsylvania), and soon-to-be KTM factory rider Donovan Mitchell from California.
Brush Prairie, Washington's Steve Sullivan swept both the 125 C Stock and Mod classes. This was his one and only year of ever coming to Loretta Lynn's Ranch to race. In other words, he didn't exactly pull a Jeremy McGrath! But the 250 C winner, Oklahoma's Robby McQuary, did come back a few times, and by 2000 the former C class champ was able to finish eighth in the 125 A class.
New York's Paul Carpenter topped New Mexico's Keith Johnson and Oklahoma's Jacob Martin for the 250 B Stock win—and this is back when they were all on 250cc two-stroke motorcycles in this class. Martin came back to win the 250 B Mod class over Carpenter and Colorado's Travis Riley.
Tennessee's own Brandon Large won one 51cc Pee-Wee class, Florida's Davi Millsaps won the other. Millsaps also won himself a 65cc class, for a rare double because Davi was on a Cobra in the 51cc class and a Kawasaki KX60 in the 65cc class.
North Carolina's Josh Summer won the 85cc (12-13) Class and Pennsylvania's Broc Hepler won the 65cc (10-11) division.
Of course Florida's James Stewart was all the talk in the 85cc classes, and he swept all three motos in one class with ease but then crashed out of the other, an ominous sign of things to come. The win he gave away was snatched up by California's Ryan Morais.
Sweeping the senior mini 85cc (14-15) Stock and Mod classes was New Mexico's Justin Buckelew. Other class winners in 1997 included Texas' Billy Whitley (Vet +30 A) and Kristy Shealy (Women's 80-125), Tennessee's own Kevin Walker (Junior +25), Alabama's William Fincher (Vet B +30), Illinois' Gary Peak (Masters +50), and Oklahoma's Chase Reed (105cc Super-Mini).